Vaccine Sign-Up Information
---
For current information about Coronavirus Disease 2019 (COVID-19):
---
Information received from State Representative Tim O'Neal's Newsletter:
State Police Warn of COVID-19 Vaccine Scams
The Pennsylvania State Police issued a disturbing warning last week about scammers using COVID-19 vaccine distribution as a means to steal people's money and/or personal information.
Scams already circulating include:
• Emails claiming to offer a vaccine waiting list, early access or doses shipped to your home. These emails may have poor grammar and spelling, as well as links that may contain malware that, once installed on your computer, steals your information.
• Texts, robocalls or messages on other platforms containing links to websites that promise the vaccine but solicit personally identifying information such as addresses, banking or credit card information. The sites may claim to be official sites belonging to manufacturers, medical providers or public health organizations and may be difficult to spot as fake.
• Social media posts with disinformation or misinformation about the vaccine's origins or efficacy or claims of political motivation. These posts may really be selling worthless or harmful products.
To help protect yourself, never provide money or personal information to anyone who requests it in exchange for special access to the vaccine; instead, rely on public health agencies for information about vaccine availability. Also, be sure your computer has the latest updates and an antivirus program. Delete any email from people you do not recognize or that has attachments you are not expecting.
---
---

---
Wolf Recommends Universal Wearing of Masks
Friday, April 3
Today, Gov. Tom Wolf and Secretary of Health Dr. Rachel Levine issued a recommendation that all Pennsylvanians wear a mask anytime they leave their homes for life-sustaining reasons. As COVID-19 cases steadily rise in the state, Wolf stressed the need to intensify all mitigation measures to help stop the spread of the virus.
Levine emphasized that staying home is the most effective way to protect yourself and others against COVID-19. The guidance recommends wearing a mask when shopping for groceries or medicine, visiting your health care provider, traveling on public transportation, interacting with customers at an essential business, and when feeling sick.
The guidance emphasizes that a surgical mask is not needed but that a homemade mask or bandana across your nose or mouth is an added layer of protection.
---
Help prevent the spread of Coronavirus disease 2019 (COVID-19)
There is currently no vaccine to prevent coronavirus disease 2019 (COVID-19). The best way to prevent illness is to avoid being exposed to this virus. However, as a reminder, CDC always recommends everyday preventive actions to help prevent the spread of respiratory diseases, including:
Avoid close contact with people who are sick.

Avoid touching your eyes, nose, and mouth.

Stay home when you are sick.

Cover your cough or sneeze with a tissue, then throw the tissue in the trash.

Clean and disinfect frequently touched objects and surfaces using a regular household cleaning spray or wipe.

Follow CDC's recommendations for using a facemask.

CDC does not recommend that people who are well wear a facemask to protect themselves from respiratory diseases, including COVID-19.

Facemasks should be used by people who show symptoms of COVID-19 to help prevent the spread of the disease to  others. The use of facemasks is also crucial for health workers and people who are taking care of someone in close settings (at home or in a health care facility).

Wash your hands often with soap and water for at least 20 seconds, especially after going to the bathroom; before eating; and after blowing your nose, coughing, or sneezing.

If soap and water are not readily available, use an alcohol-based hand sanitizer with at least 60% alcohol. Always wash hands with soap and water if hands are visibly dirty.
These are everyday habits that can help prevent the spread of several viruses.
---

For information about handwashing, see CDC's Handwashing website
For information specific to healthcare, see CDC's Hand Hygiene in Healthcare Settings
---
---
OTHER HEALTH AND SAFETY INFO
---
Protect your family from ticks –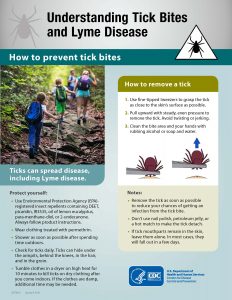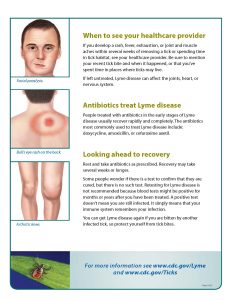 For more information visit PA Lyme Resource Network or CDC – Lyme disease
---