Vaccine Sign-Up Information
---
For current information about Coronavirus Disease 2019 (COVID-19):
---
Information received from State Representative Tim O'Neal's Newsletter:
State Police Warn of COVID-19 Vaccine Scams
The Pennsylvania State Police issued a disturbing warning last week about scammers using COVID-19 vaccine distribution as a means to steal people's money and/or personal information.
Scams already circulating include:
• Emails claiming to offer a vaccine waiting list, early access or doses shipped to your home. These emails may have poor grammar and spelling, as well as links that may contain malware that, once installed on your computer, steals your information.
• Texts, robocalls or messages on other platforms containing links to websites that promise the vaccine but solicit personally identifying information such as addresses, banking or credit card information. The sites may claim to be official sites belonging to manufacturers, medical providers or public health organizations and may be difficult to spot as fake.
• Social media posts with disinformation or misinformation about the vaccine's origins or efficacy or claims of political motivation. These posts may really be selling worthless or harmful products.
To help protect yourself, never provide money or personal information to anyone who requests it in exchange for special access to the vaccine; instead, rely on public health agencies for information about vaccine availability. Also, be sure your computer has the latest updates and an antivirus program. Delete any email from people you do not recognize or that has attachments you are not expecting.
---
---

---
Wolf Recommends Universal Wearing of Masks
Friday, April 3
Today, Gov. Tom Wolf and Secretary of Health Dr. Rachel Levine issued a recommendation that all Pennsylvanians wear a mask anytime they leave their homes for life-sustaining reasons. As COVID-19 cases steadily rise in the state, Wolf stressed the need to intensify all mitigation measures to help stop the spread of the virus.
Levine emphasized that staying home is the most effective way to protect yourself and others against COVID-19. The guidance recommends wearing a mask when shopping for groceries or medicine, visiting your health care provider, traveling on public transportation, interacting with customers at an essential business, and when feeling sick.
The guidance emphasizes that a surgical mask is not needed but that a homemade mask or bandana across your nose or mouth is an added layer of protection.
---
Wolf Requests Major Disaster Declaration, Announces Relief Efforts
Gov. Tom Wolf has requested a major disaster declaration from President Trump to provide additional support for state, county, and municipal governments and certain nonprofits, as well as individuals struggling during the COVID-19 outbreak.
If approved, the requested declaration will provide the same emergency protective measures and benefits available under the nationwide proclamation, including individual assistance, public assistance, and statewide hazard mitigation.
Wolf also announced this weekend that the state Department of Agriculture has received approval to operate a Disaster Household Distribution Program to help those adversely affected by the statewide COVID-19 mitigation efforts. This will allow the department to more efficiently distribute food through existing food banks and pantries. More information is available on the commonwealth's Responding to COVID-19 in Pennsylvania website.
The Department of State also announced a series of temporary licensing waivers for health care professionals and others during the COVID-19 disaster declaration. This includes streamlining the reactivation of licenses for retired health care practitioners, allowing services to be provided via telemedicine, and lifting the requirement that certified nurse practitioners practice within a specialty. Click here for more information.
Federal CARES Act Provides Stimulus Funds
President Trump has signed the Coronavirus Aid, Relief, and Economic Security Act (CARES), which is a $2.2 trillion economic relief package. Among many other provisions, it authorizes payments of $1,200 for individuals whose adjusted gross income was $75,000 or less or $2,400 per couple with an adjusted gross income of $150,000 or less, plus $500 per child. The package also provides assistance to hospitals and health care facilities and expands childcare benefits for health care workers and first responders.
The act provides for $150 billion in population based direct relief to state, tribal, and local governments. The bulk of these funds will be provided to states for direct COVID-19 relief efforts, with no state to receive less than $1.25 billion. As defined by the bill, direct application "local government" only applies to those municipalities with a population of 500,000 or more, and any direct payments would be subtracted from that state's share. It will be up to the commonwealth to determine how to allocate the remaining funds.
President Donald Trump Sunday evening extended the social distancing guidelines through April 30 in an effort to slow the spread of Covid-19 and the rising death toll.
Looking for Current List of Life-Sustaining Businesses?
DCED continues to review waiver requests and fine-tune the list of life- and non-life-sustaining businesses. There have been more than 25,000 requests with more than 4,000 approved and 4,400+ denied. For the most current version of the list, go to dced.pa.gov.
---
Pennsylvania Animal Response Team
        Providing Prevention, Preparedness, Response and Recovery            for Animal Emergencies
Media Advisory
The Washington County Emergency Management Agency, Washington Area Humane Society and Pennsylvania State Animal Response Team would like to recommend:
Pet Owners
Obtaining copies of your pet's vaccination records in case you must seek temporary shelter for your pets.
Ensure you have a month's supply of food and water for each pet as well as any necessary medication.
Make sure that a neighbor, friend, or family member is aware that you have pets and their needs in case you are unable to return to your home or have to leave in an emergency.
Farmers
Limit contacts on your farm and put plans into place to keep staff away from one another as they work.
Plan for illness and decreased work force, schedule shifts and prepare backup.
COVID-19 can live on the hide of animals, if there is an exposure, plan for a decontamination.
Refer to Pennsylvania Departments of Agriculture COVID-19 GUIDANCE: For Private Pet Owners for additional detail.
Please note that these organizations are planning for the worst-case scenario and do your part to plan for your pet so that those resources can be used for those truly in need.
For more information please contact interim Executive Director Sarah Speed at 717-682-8701 or sspeed@pasart.us
---
Secretary of Agriculture on Food Supply and Hoarding:                              It's Hurting Pennsylvania's Food Banks
March 24, 2020
Harrisburg, PA – Agriculture Secretary Russell Redding today urged Pennsylvanians to return to their normal shopping habits to allow the supply chain to recover and allow enough essentials for all. Over-purchasing impacts the food system, particularly the charitable food system that's currently working overtime to meet increased demands as thousands of Pennsylvanians are finding themselves out of work as a result of necessary COVID-19 mitigation efforts.
---
The Wolf Administration stresses the role Pennsylvanians play in helping to reduce the spread of COVID-19:
Wash your hands with soap and water for at least 20 seconds or use hand sanitizer if soap and water are not available.
Cover any coughs or sneezes with your elbow, not your hands.
Clean surfaces frequently.
Stay home to avoid spreading COVID-19, especially if you are unwell.
Updated Coronavirus Links: Press Releases, State Lab Photos, Graphics
All Pennsylvania residents are encouraged to sign up for AlertPA, a text notification system for health, weather, and other important alerts like COVID-19 updates from commonwealth agencies. Residents can sign up online at www.ready.pa.gov/BeInformed/Signup-For-Alerts.
---
FOR IMMEDIATE RELEASE
March 24, 2020
Wolf Administration Reminds Pennsylvanians of Food Assistance Programs and Resources, Encourages Volunteerism to Keep Life-Sustaining Food Services Available
Harrisburg, PA – The Wolf Administration today reminded Pennsylvanians of food assistance resources available and what actions it is taking to ensure access to food does not stop in spite of the COVID-19 mitigation efforts.
"Life has slowed and it has changed, but it has not stopped for the millions of Pennsylvanians who depend on food assistance programs. We know that this pandemic has caused many people and families to find that they are suddenly food insecure and require assistance," said Department of Human Services (DHS) Secretary Teresa Miller. "The Wolf Administration is doing everything it can to ensure that everyone's food security needs in the commonwealth are met during this uncertain time."
Pennsylvanians who need help feeding themselves or their family should find and contact their local food bank or pantry through Feeding Pennsylvania and Hunger-Free Pennsylvania.
DHS is continuing to process applications and benefit renewals for the Supplemental Nutrition Assistance Program (SNAP).  Emergency SNAP applications can be expedited and issued in five days. Pennsylvanians can apply for SNAP online at www.compass.state.pa.us.
DHS will continue to process application and renewal benefits, so people should continue to send in paperwork as usual. But, for anyone currently on SNAP who misses a deadline, who is not able to submit the paperwork or complete an interview or provide verifications for any reason during this emergency, DHS will ensure their SNAP benefit continues. DHS submitted a waiver request to the federal Food and Nutrition Service (FNS) to ensure this continuity in benefits.
The Pennsylvania Department of Agriculture has provided resources for Pennsylvanians to access emergency food assistance during COVID-19 mitigation, including locations of food banks and food pantries that are assisting individuals and families during this time. And to ensure that food banks and community feeding organizations remain operable with healthy volunteers, the department provided guidance for ways to limit contact while providing their essential services.
"Quite simply, no Pennsylvanian should ever go hungry. Especially during this disruptive time of COVID-19 mitigation efforts," said Agriculture Secretary Redding. "We've worked hard to provide guidance to the agriculture industry to ensure that healthy food continues to flow to grocery stores and food banks; and guidance for those who volunteer their time at banks to do so safely, protecting their health and the health of those who come for assistance."
The Wolf Administration also asks that anyone who is healthy and able please consider volunteering with a local food bank or registering for the State Emergency Registry of Volunteers in Pennsylvania, as this time is creating an incredible strain on charitable organizations' efforts. United Way of Pennsylvania's 211 website is also compiling organizations that need volunteers or resources so their work can continue.
Amidst Governor Wolf's continued, aggressive mitigation efforts – including the state-wide closure of non-life-sustaining businesses and the recent Stay at Home order issued for seven Pennsylvania counties – the work being done by our food banks and their volunteers is life-sustaining and must continue. The orders do not prohibit food banks and their volunteers from offering food services, nor do they prohibit school districts from offering food services to children during the statewide school closure. Schools and school districts may continue to bring in essential employees involved in the preparation and distribution of meals for children.
The emergency Feeding Taskforce, which consists of state agencies, charitable food networks, food retailers, and other partners and stakeholders, is working to identify available resources and provide food and water to communities in need; including ensuring school age children, older adults and others experiencing food insecurity are provided with nourishing meals.
Businesses who have resources to help feed and shelter Pennsylvanians in need are encouraged to fill out this survey to assist the task force as they look to direct resources. Any Pennsylvanian who is suddenly in need of food should complete this survey so the task force can better understand where resources should be directed.
"We need to be sure our charitable food networks are able to continue their daily operations and meeting the need of their communities, so if you are healthy and able, please contact your local food bank to get involved and help you neighbors and community during this time of great need," said Secretary Miller.
Visit the PA Department of Health's dedicated Coronavirus webpage for the most up-to-date information regarding COVID-19.
Guidance to DHS providers related to COVID-19 is available here. Information and guidance as it relates to agriculture during COVID-19 mitigation in Pennsylvania is available here.
---
Help prevent the spread of Coronavirus disease 2019 (COVID-19)
There is currently no vaccine to prevent coronavirus disease 2019 (COVID-19). The best way to prevent illness is to avoid being exposed to this virus. However, as a reminder, CDC always recommends everyday preventive actions to help prevent the spread of respiratory diseases, including:
Avoid close contact with people who are sick.

Avoid touching your eyes, nose, and mouth.

Stay home when you are sick.

Cover your cough or sneeze with a tissue, then throw the tissue in the trash.

Clean and disinfect frequently touched objects and surfaces using a regular household cleaning spray or wipe.

Follow CDC's recommendations for using a facemask.

CDC does not recommend that people who are well wear a facemask to protect themselves from respiratory diseases, including COVID-19.

Facemasks should be used by people who show symptoms of COVID-19 to help prevent the spread of the disease to  others. The use of facemasks is also crucial for health workers and people who are taking care of someone in close settings (at home or in a health care facility).

Wash your hands often with soap and water for at least 20 seconds, especially after going to the bathroom; before eating; and after blowing your nose, coughing, or sneezing.

If soap and water are not readily available, use an alcohol-based hand sanitizer with at least 60% alcohol. Always wash hands with soap and water if hands are visibly dirty.
These are everyday habits that can help prevent the spread of several viruses.
---

For information about handwashing, see CDC's Handwashing website
For information specific to healthcare, see CDC's Hand Hygiene in Healthcare Settings
---
---
OTHER HEALTH AND SAFETY INFO
---
Protect your family from ticks –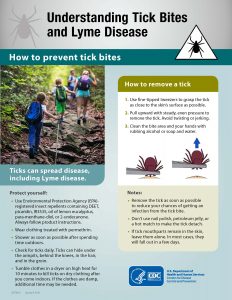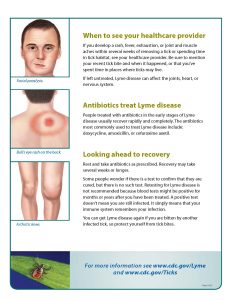 For more information visit PA Lyme Resource Network or CDC – Lyme disease
---